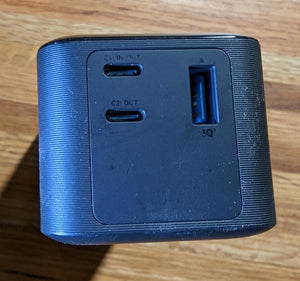 Battery: Anker 737
Device Type: Portable Battery
Manufacture: Anker
Model: 737 Power Bank
Specifications:
Capacity: 24,000 mAh
Power Output: 140W
Ports
Size: 6.13" x 2.15" x 1.95"
Weight: 1.39lb
Pros:
High power output can power large devices.
PD 3.1 Power (full recharge in less than an hour).
Airplane travel friendly.
Cons:
Bizarre results with GoPro streaming (see notes below)
Bulky/Heavy
Smart sensors may interfere with the connected device.
Notes/Details:
Device will power a GoPro HERO11 without the internal battery.  Will provide enough power to allow the camera to record.  However, when attempting to stream, the battery will interfere and break the Bluetooth network between the camera and smart device.
---