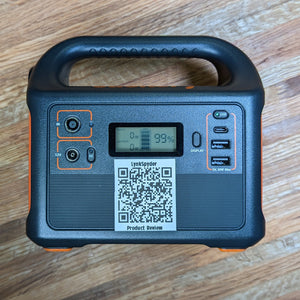 Battery: Jackery 160
Device Type: Portable Battery
Manufacture: Jackery
Model: Power Station Explorer 160
Specifications:
Capacity: 167 Wh (11600 mAh)
Power Output: 100W (150W Surge)
Ports

USB-C
UAB-A x 2
110 VAC (200W)
12 VDC

Size: 7.4" x 4.5" x 6.7"
Weight: 3.97lb
Pros:
High power output can power large devices.
AC power to feed trusted "wall wart" chargers
Airplane travel friendly.
Powers all modern GoPro cameras via USB-C and USB-A power
Cons:
Small capacity for the price
Bulky/Heavy
Not airplane friendly
Notes/Details:
A USB-C 3.1 Gen 2 cable is required to power the GoPro HERO 11.
Really odd issue with HERO11 Black (most likely Mini as well).  If you plug in the camera and Jackery and let it sit before turning on the GoPro, the Jackery output will eventually read 2 watt output.  When you boot the GoPro, you will receive the "NOT ENOUGH POWER" alarm.  However, if you turn on the Jackery (or plug it in to the GoPro) and quickly turn on the GoPro before the Jackery reads 2 watts, the camera will boot and work perfectly.  A video will be created to explain this.
---