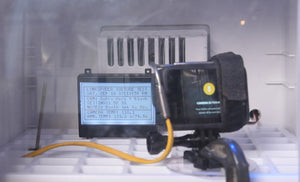 GoPro HERO9 Black - 5K30, Battery, 38c Internal Temp
Test #2 for this camera.  In this test, we are simulating running the camera at maximum game settings in a simulated heat environment.  We setup the booth at 38c, which is just slightly over 100f.  Below are the results.
1.) Camera Started 6:41:48 PM
2.) Camera Failure (Heat): 7:10:36 PM
(Cam Temp 118.1; Ambient Temp 101.2 degrees)
Video Captured: 28 minutes 48 seconds
Test Notes: In effort to accurately capture the point of failure, the Rear LCD remained on constantly. It is possible this would increase some heat.
Conclusion: Without external means to cool down camera during recording, these settings are not a viable option for complete game recording. Starting and stopping may increase usable runtime.
Camera Settings/Data:
Resolution: 5K
FPS: 30
FOV: Narrow
Zoom: Not available
Hypersmooth Off
WiFi Off
GPS Off
Battery Full at test start
No external power
Battery 66% at failure
---