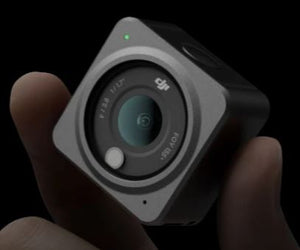 DJI Action 2 Camera Launch
On 10/27/2021 DJI announced the successor to the popular Osmo Action.  Shipping, starting on 11/2/2021, the DJI Action 2 is a modular design, combining some of the benefits of the old GoPro Session and the Insta360 cameras.  The following thread will include information as we receive it, and will post updates from time to time as we test and develop our official recommendation.
11/3/2021 12:00 PM
Camera arrived yesterday and we have been playing with it a bit.  Today we mounted it on our standard LynkSpyder at the test field to get a feel for mounting issues (none found) and quality of video and view (mostly, composition of shot).  Here's a view of the setup:
Sample video segment from our normal view.  Shot at 4K/120FPS; Standard Dewarp FOV with 2.0x Digital zoom to compose the shot we like.
The size of the Action 2 is very nice without any additional addons.  But this only gets you a small battery and 32GB of internal memory.  Once you add the other modules to give you external power (or more internal battery) as well as a microSD slot, the overall size of the setup gets a little clunky (shown here with the GoPro HERO 10):
The next step is to put the camera in our heated Torture Chamber and see how it does.  Stay tuned...
10/27/2021 12:00 PM
After watching the release videos, some early reviews, and reading the manuals, the following is some information we know today:
Camera unit includes 32GB internal memory.  No other ports available without secondary module (Front Face LCD or Power module).
Camera unit is waterproof.
Front Face LCD and Power modules (attach via magnets and clips) include USB-C port as well as micro SD slot.  Not water resistant without external housing.  These modules provide external power as well.
4K 120 is the maximum video format.
Multiple FOV and digital zoom features available.
Streaming feature available.
Front lens cover is not removable.  This is a potential issue if a cracked or scratched lens cover occurs.  Highly recommend paying for the DJI insurance (2 options available).
External modules (LCD and Power) support up to 256GB SD cards.  As with most devices, make sure to select SD cards that have speed ratings for high bitrate video.
Dimensions approximately 1.5" square by 7/8" deep.
Sensor is 1/1.7" CMOS (larger than the GoPro HERO10 sensor)
---