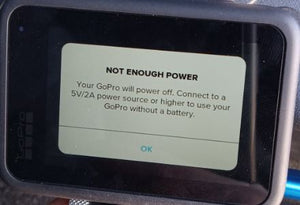 GoPro HERO 10 - Not enough power message
(NOTE 4/26/2022: See below for a viable alternative using the latest firmware)
As with all GoPro cameras, it generally takes a few updates after release to fix some of the more common issues.  As is commonly said in the programming world, sometimes this means you just replace the old bugs with new ones.  This certainly is the case for the two most recent firmware updates of the GoPro HERO 10.  If you are running firmware versions 1.3 to 1.4 (the latest version at current date), you will experience issues trying to use external power with the internal battery removed.  As you may or may not know, we highly recommend running all modern GoPro cameras with the internal battery removed.  This is due to the fact that the GoPro firmware recognizes the internal battery and will force a heat related shut down far sooner than without the internal battery.  However, with the two firmware versions mentioned above, you will receive the following error, and the camera will shut down as soon as you click OK on the message.  There are folks who suggest you "trick" the camera by starting the recording with the internal battery in place, and then remove the battery.  This will bypass the warning message.  But honestly, I don't feel this is the best solution.  Tricking firmware is not a safe bet to make when you are out at the field with little options if something goes wrong.  No, the better solution is to downgrade to the last known usable firmware version.  We are using 1.16 with great success.  We will continue to stay at this version until GoPro adds something really useful, like the ability to adjust FOV while streaming (we've been screaming for this since the HERO 7....GoPro... are you listening?)
Here is the process for downgrading your camera.  Note, we are suggesting a process that is not officially recommended by GoPro.  But since the current recommended solution is to use the faulty firmware (v1.40), we feel this deviation has merit.
1.) Download the v 1.16 firmware file from our Google Drive.  (Click here to download)
2.) This link will take you to a Google Drive Page.  Click the download icon to download the zip file to your local computer (be sure to note where the file is being saved):
3.) Use the normal GoPro manual update process.  But skip step 1 as this will download the newer version of the update.  Replace all references to that process with the file you downloaded above.
(Click here for the GoPro HERO 10 Manual update process)
That will take care of your external battery issue.  I hope this helps.
Alternative Solution
After we posted this blog on Facebook yesterday, a customer reached out and suggested we try a cable that has USB-C style connectors on both ends (not the stock GoPro cable).  We did...and sure enough, this problem went away even using v1.40 firmware on the HERO 10.  So lets talk about that and what I speculate to be the problem.  The old square USB connector on the stock GoPro cable is what is called a USB-A style connector.  But here is the confusing problem.  USB-A  can accommodate a couple different standards (USB 2, USB 3.x, etc.).  That means the rated power for USB-A is somewhere between 0.5A (500mA) and possibly up to 1.5 A.  Whereas USB-C can push up to 3A.  At 5 volts, that's 100 watts.  And in order for a USB-C cable to be fully 100 watt compliant, it uses 8 pins on each connector.  A USB-A style connector only has 4 pins.  So even though the standard GoPro cable has a USB-C style connector on one side, it is not 100 watt compliant and is limited in power to the USB 2.0 or 3.x standard.
So to test this we used an EasyAcc MegaCharge D20 battery that has a USB-C output port as well as 3 USB-A ports.  We used the stock GoPro cable as well as a USB-C to USB-C cable that is 100 watt compliant (Google Pixel Dock which uses a 3A wall wart).  As you can see from the photos, using the same battery with each of the respective cables, USB-A failed and USB-C worked.  Oddly, USB-A worked 2 out of 10 times we tried.  UBC-C worked all 10.  So while you might be able to make it work in the field.  I certainly would not trust it.  I do not trust Eric C (the customer who made the suggestion).  And I should have listened to him over a month ago when he made a similar suggestion.  Thanks Eric!
Shameless LynkSpyder plug....
While you are here, if you don't have a LynkSpyder to mount your GoPro HERO 10, below is our recommended setup for this camera.  It is a great option to record Baseball, Softball, and Tennis at all levels of play.  We have customers that range from t-ball families to professional MLB teams.
(Click here for the LynkSpyder HERO 10 recommended setup)
LynkSpyder
Proudly Made in the USA since 2013
---